Artsakh
Capital
Stepanakert
Form of government
Unitary Presidential Democracy(Republic)
Provinces
2
Cores
2
Population
234
Primary Ethnicity
Armenian
Religion

Miaphysite
Tolerated minorities
Assyrian
Accepting ethnicites
Assyrian
Artsakh or Mountainous Karabakh is a De facto state consisting of two counties - Nagorno Karabakh and Kashatagh.
Political parties
Edit
Azat Hayrenik kusaktsutyun
Arzachi Demokratakan Kosaktsutjun
Dashnaktsutyun
Arzachi Komunistakan Kusakzutjun
Alternate flags
Edit
Republican
Edit
The republican flag of Artsakh is the standard version.
Monarchist
Edit
The monarchist flag of Artsakh dates from the times of the principality of Khachen. It will be displayed if the form of govbenrment becomes a monarchy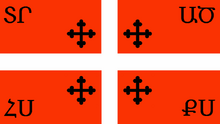 Communist
Edit
This flag will be displayed if the country becomes a leftist dictatorship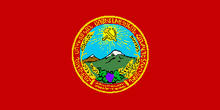 Ad blocker interference detected!
Wikia is a free-to-use site that makes money from advertising. We have a modified experience for viewers using ad blockers

Wikia is not accessible if you've made further modifications. Remove the custom ad blocker rule(s) and the page will load as expected.